OneQ ON
Call Center
Multichannel Convergence Call Center Solution

With the latest developments in communication methods, making contact with customers through various channels is becoming a basic requirement for all customer service industries.


Among these industries, the financial industry, which has the closest contact with customers, needs to respond most sensitively and agilely to these changes. Therefore, payment and communication methods in the finance field have been developing more rapidly than anyone had expected.



Because of this, many global financial companies are building multichannel customer management systems and multichannel payment systems to ensure they are able to provide the best customer service.
WHY DO YOU NEED
OneQ ON Call Center
FOR YOUR FINANCE?

In addition, as customers' requirements are becoming more specific and diverse, we need a call center solution that allows customer feedback of various types to be received and stored in a systematic way.

Here, we introduce OneQ ON Call Center, a flexible, high-performance solution that enables free and easy communication with customers through diverse channels.

OneQ ON Call Center will improve your customer service by supporting the operation of a flexible and tailored system environment and providing a wide variety of benefits,
as outlined below.

<
BENEFITS
Reduced business costs and enhanced system scalability
OneQ ON Call Center reduces infrastructure costs by using open standards and technologies and minimizing dependence on specific commercial off-the-shelf solutions.

It has also been built as a cloud-native architecture, thus offering enhanced system scalability and ensuring system security.


Service-oriented architecture and high availability
OneQ ON Call Center, designed based on a service-oriented architecture, enhances customer-facing services
by connecting with a variety of internal and external systems.

OneQ ON Call Center is organized by service and ensures high availability, allowing uninterrupted operation 24 hours a day.


Easy and convenient finance services
OneQ ON Call Center supports easy and convenient financial services such as customer identification through video call,
enabling customers to expand their financial services.


DESCRIPTION
OneQ ON Call Center has been operated at KEB Hana Bank Indonesia since 2019, and has also been expanding its customers through various channels.

Specifically, OneQ ON Call Center was developed to enhance our own CRM business efficiency and support service expansion.
Therefore, we have reflected in it all of the technology and knowledge that we have acquired through our work in the financial industry, and
its functions have been upgraded and improved through continuous R&D activities.
Now, we would like to share our technology with you.


SYSTEM CONFIGURATION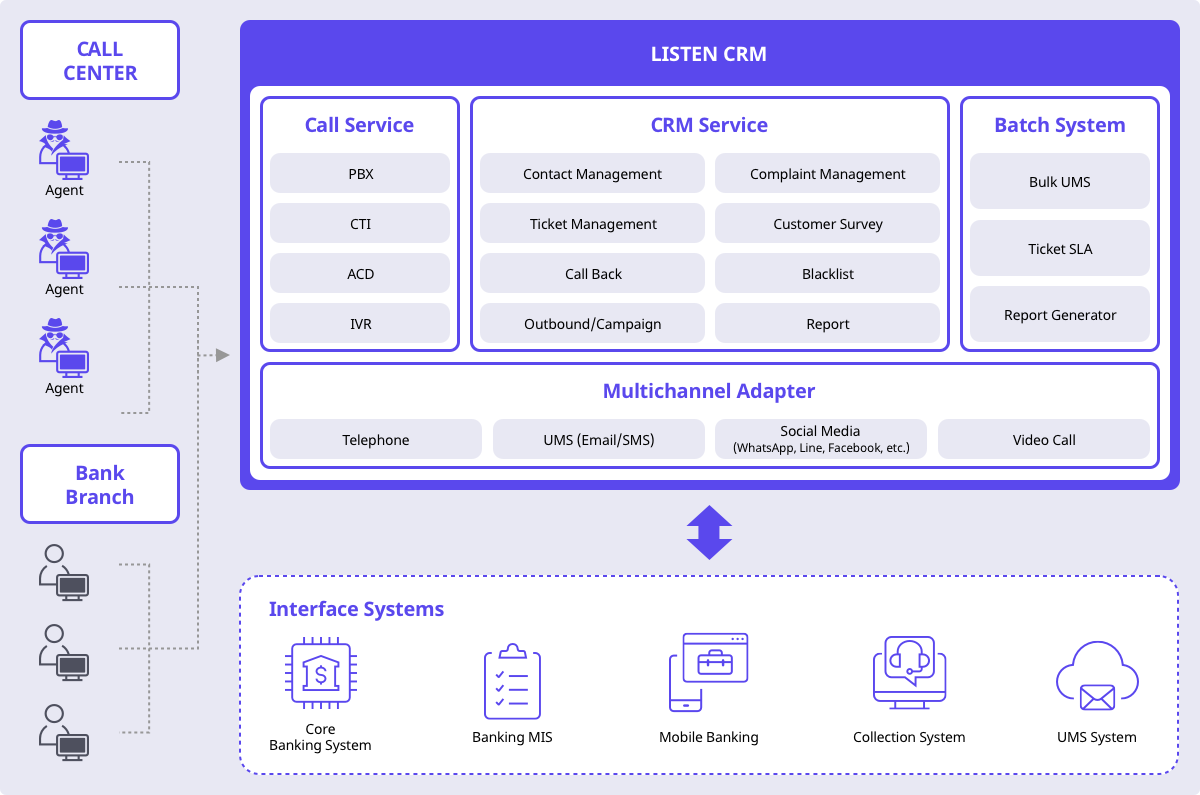 FEATURES
01Increases efficiency of bank customer response through interoperability with core banking system.
02QA Module: assessment of agents' customer service skills and training for agents
03WFM Module: agent work management, creation of work schedule through traffic forecasting
04Complaint Management: ticket issuance by consultation case, SLA management, customer notification
MORE
If you wish to have detailed consultations or make queries about OneQ ON Call Center, please contact us using the contact information provided below.