OneQ ON
Trans
Data Transformation Solution
that offers robust data security

Amid leaks of personal information from the largest social media platforms in the world, security issues regarding personal information collected and used by enterprises offering global services have come to the forefront worldwide.

However, financial companies have long considered how to protect customers' personal information and devised ways to prevent data leakage.


Ironically, one of the processes in which the most customer information is leaked is the system checkup and testing process, which is intended to provide better service to customers.


In response to this, we developed OneQ ON Trans, an encryption solution that helps enterprises convert confidential customer information to ensure safe checkup and testing.
WHY DO YOU NEED
OneQ ON Trans
FOR YOUR FINANCE?
OneQ ON Trans, a solution that converts and loads sensitive information data to a system, is currently being used, and has been proven, by Hana Members, the digital payment platform of Hana Bank, Korea's largest financial company.

Hana Members is a cross-border payment service platform that enables users in 14 countries, including Taiwan, Thailand, and Vietnam, to freely remit and transfer funds via mobile device, and thus requires robust protection of customer information in local environments.

OneQ ON Trans is an essential security solution for ensuring compliance with the General Data Protection Regulation (GDPR) of the EU and provides solid protection for service tests conducted by enterprises.
BENEFITS
Efficient data migration, transformation, and extraction
OneQ ON Trans enables the simultaneous implementation of data migration, transformation, extraction, and loading as well as customized data migration by a data management system (DBMS).

As it allows data transformation on the server without creating load/unload scripts or files, it has no impact on the file system, among others, thus allowing tasks to be conducted regardless of disk size.


Robust security and data conformity
By maintaining data conformity and applying a self-transforming algorithm (hash key mapping and byte-level operation) for the testing of transformed data, information leakage is avoided, and the use of transformed data is maximized.


User convenience
For the convenience of users, a web environment (user interface) is provided, and at least five tasks can be created and executed simultaneously through schedulers.

Through automated data migration and transformation and monitoring of logs and progress of tasks underway, actions can be taken by process, making work implementation easier and more convenient.


DESCRIPTION
OneQ ON Trans is an encryption solution that removes or modifies operational data and sensitive personal information before service testing and enables simple and safe data migration, thereby preventing leakage and disclosure of personal information.

To create an environment suitable for service testing, application developers need data that reflects the latest business transactions.
For this, OneQ ON Trans supports the testing of suitable volumes of data rather than entire databases, as is done by previous methods, thereby reducing the time needed to build a test database and increasing the efficiency of the process.

Data encryption to ensure the protection of personal information is a must, not an option. Now, you can test your services with OneQ ON Trans.
SYSTEM CONFIGURATION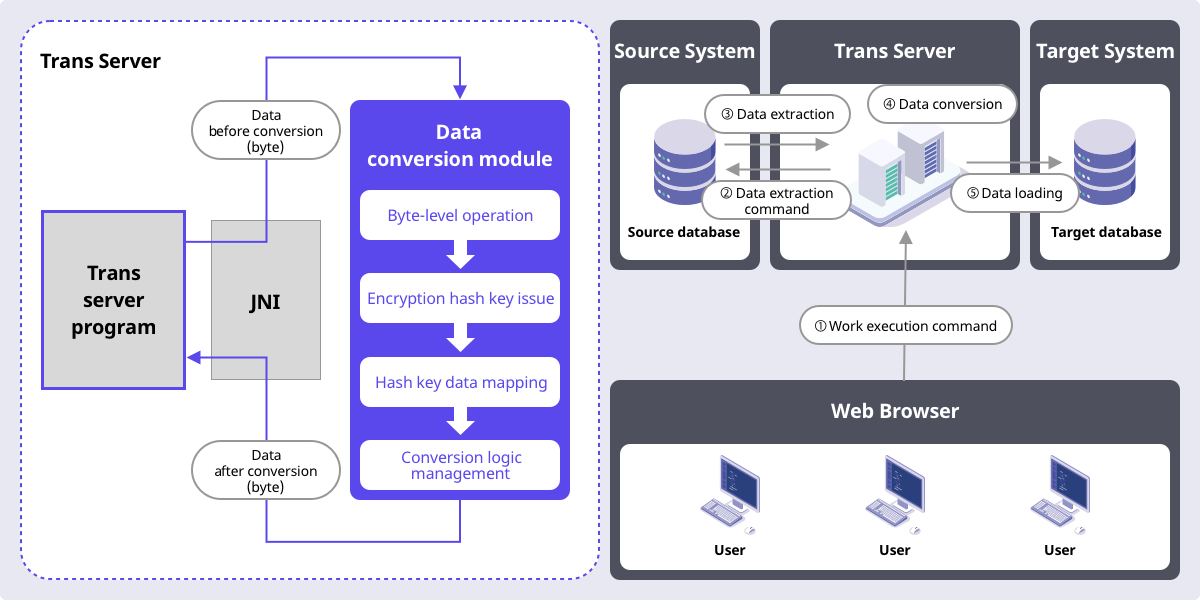 FEATURES
01Commercial DBMS support (JDBC)
02High-efficiency data transformation
03Independent data transformation module
04Data validation and authority control
05Monitoring of data transformation
MORE
If you need a solution for the safe and reliable data transformation of important data, please contact us using the details provided below.