OneQ ON
Collection
Convenient Collection Solution

As you all know, maintaining good financial health has long been a prime concern in the financial industry. And financial health greatly relies on the defaults of creditors within a given timeframe, as well as on their recovery. Therefore, the most important part of the collection process is predicting collectability.


Moreover, the collection process is becoming increasingly complicated, driven by the rapidly increasing requirements of creditors' and local market conditions. The financial field thus needs an innovative collection system that is capable of handling the fluctuating lending volumes, complexities of credit risk, and growing demand for loans.


Here, we introduce OneQ ON Collection, an innovative collection solution for reducing and mitigating the risks of managing past-due or delinquent accounts.
WHY DO YOU NEED
OneQ ON Collection
FOR YOUR FINANCE?
Using smart algorithms, OneQ ON Collection provides an open, compliant, and scalable debt management platform.

In addition, OneQ ON Collection makes doing business easier by providing convenient functions, as listed below: Personalized payment methods, completely integrated case management system, definable import and export file report generators, and communication capabilities.

OneQ ON COLLECTION helps make the collection process more accurate and easier by recording debtors' payment, transaction, and store account information.
BENEFITS
Enhanced account recovery
OneQ ON Collection provides real-time data and ensures that the strategic collection process is done as quickly as possible.

It also helps you prevent delays in the collection of overdue payments by identifying and resolving disputes sooner.


Increased productivity
OneQ ON Collection effectively combines the management of information and resources to improve collection performance.


Improved operational forecasting accuracy
OneQ ON Collection provides not only a statistical forecast function but also a function for tracking expected payments.

It also supports you in making strategic business decisions by providing systematic data.


Supporting collection strategies using systematic service data management
OneQ ON Collection stores all detailed data, on each debtor's financial transactions, on a secure database, and manages
it in a systematic manner.

This allows customers to establish the ideal collection strategy for handling debtors and the collection process.


DESCRIPTION
OneQ ON Collection is a powerful collection software solution that has been designed with an innovative architecture to reduce and minimize the burden of handling past-due or delinquent accounts.

OneQ ON Collection easily processes data on delinquent accounts and analyses the next collection process by differentiating delinquent accounts based on risk segmentation.

OneQ ON Collection can integrate all of the technologies and channels that customers need, including: auto-dialler telephony systems, SMS and email gateways, mobile field collection systems, and voice blast systems.

The result of each collection activity is uploaded to the collection and records system to update the status of customers'financial condition, thus creating an audit trail for the collection work for delinquent accounts, and update the information on customers' willingness and ability to pay.


SYSTEM CONFIGURATION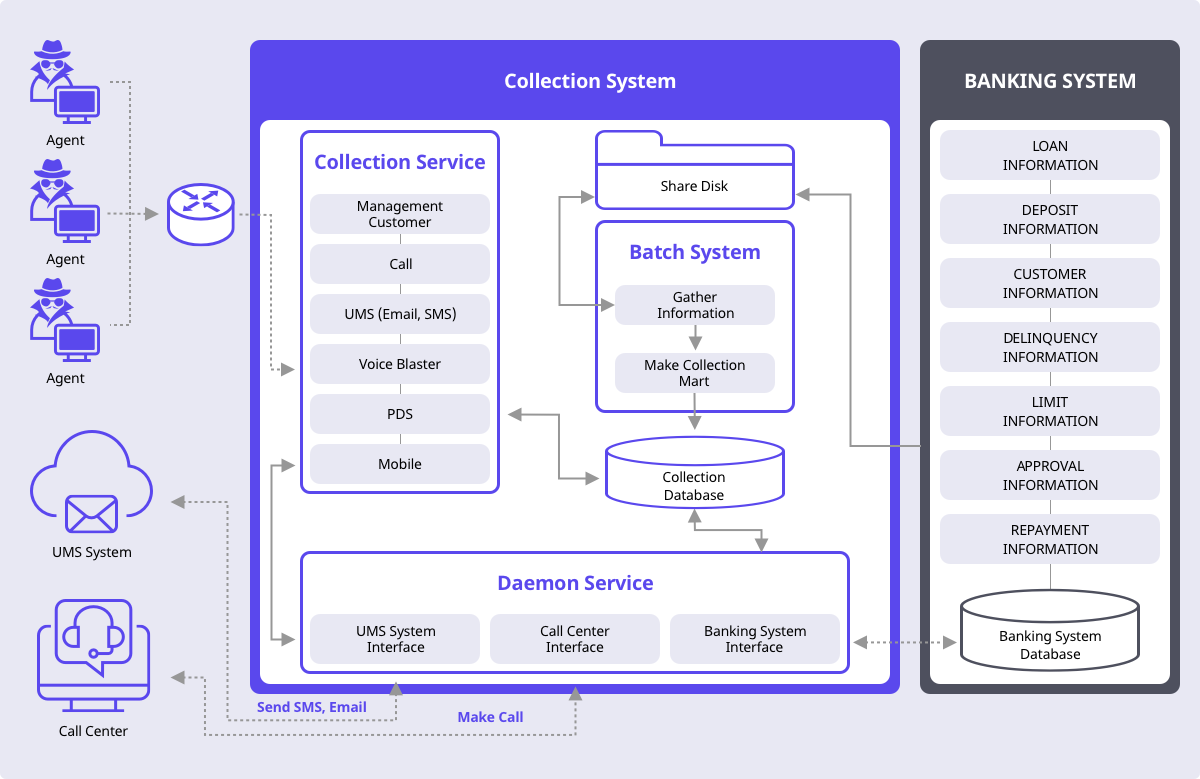 FEATURES
01Convenient management functions: manage past-due and delinquent accounts and score accounts
02Comprehensive, all-in-one monitoring service
03Intuitive dashboard and analytical report
04Use of advanced technology to prevent risk (dialler telephony system, predictive dialling system, SMS and email gateways)
MORE
If you wish to have detailed consultations or make queries about OneQ ON Collection, please contact us using the contact information provided below.